Dura Seal 1000 Product Description:
Dura Seal 100 is a 100 percent Urethane, one-component hardwood floor finish that is used by professionals to finish wood floors and keep them looking like new. As a one-component product, it requires no mixing before use, making the application process that much simpler for those who choose to go with this top-quality wood finishing product.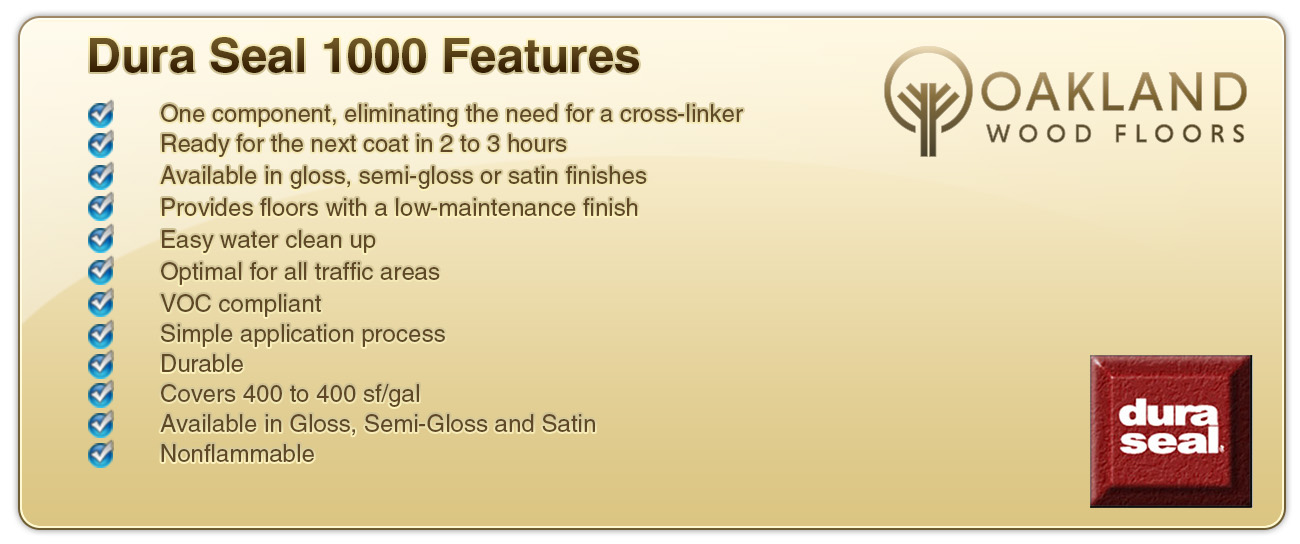 Dura Seal 1000 Recommended Uses:
Dura Seal 1000 is perfectly formulated for use on hardwood floors that undergo all levels of traffic — from very little to very heavy. It's capable of withstanding the toughest beatings.


Physical characteristics of Dura Seal 1000:
Ingredients- Some ingredients included in this product are 2-Methoxymethylethoxypropanol, 1-Methyl-2-
Pyrrolidone and Triethylamine (A full list can be found on the back of the product)
Color – Information unavailable
pH – 8.3
Solids – 30%
Viscosity –100 cps
Density – 8.55 lbs./gallon
VOC - 350 grams/liter or 2.9 lbs/gal maximum
Gloss level – Information unavailable
Odor - Information unavailable
Stability - Information unavailable
Packaging – 1-gallon plastic container


Application characteristics of Dura Seal 1000:
Clarity- Information unavailable
Leveling - Information unavailable
Dry time - Allow 2 to 3 hours between coats; only light traffic after 24 hours.
Maximum cure - Allow one week to pass before submitting to heavy traffic and rugs.
Flashpoint - <200 F
Coverage – 400-500 square feet per gallon
Defoaming – Information unavailable
Percent cured after 24 hours – Information unavailable


Application and Maintenance for Dura Seal 1000:
Though its one-component feature takes one step out of the application process of Dura Seal 1000, that does not minimize the importance of being fully knowledgeable of all the other proper steps — indicated on the back of the product. Make sure the floors are prepared properly for the application, and test a separate board with the product to ensure it will produce the desired results. For the best results, apply two coats of Dura Seal 1000. If the floor wasn't stained previous to application, three coats are recommended. If you have further questions about the application process, contact Dura Seal at 1-800-364-1359 or go to www.DuraSeal.com.

To prevent wear on the finished floor, after application and drying, sweep or vacuum the floor daily to avoid build up of grime. Avoid using all-purpose cleaners.


Recommended Application Tools: Synthetic bar applicator, synthetic brush or lamb's wool applicator

Believe it or not, installing or maintaining a hardwood floor of your own is affordable — even in this economy. By utilizing our hardwood calculator, you can determine just how little it will cost you to hire Oakland Wood Floor's skilled, experienced team to come out and give you the floor of your dreams. Just like our customer testimonials prove, we are licensed company that's dedicated primarily to the service of our California customers and are eager to serve anyone wanting a beautiful hardwood floor in their home. As a NWFA member, we promise to use only the best products, like Dura Seal 1000, and the most advance practices, like our dust-free sanding and finishing process, on your floors. Call us today at 866-670-1239.