Oil-Modified Finishes Product Description:
In order to look their best, hardwood floors must have a finish capable of giving it that amazing shine. Bona oil-modified finishes, like Woodline Polyurethane, have the ability to provide floors with a smooth top coat that enhances the wood's natural color and protects it from everyday traffic.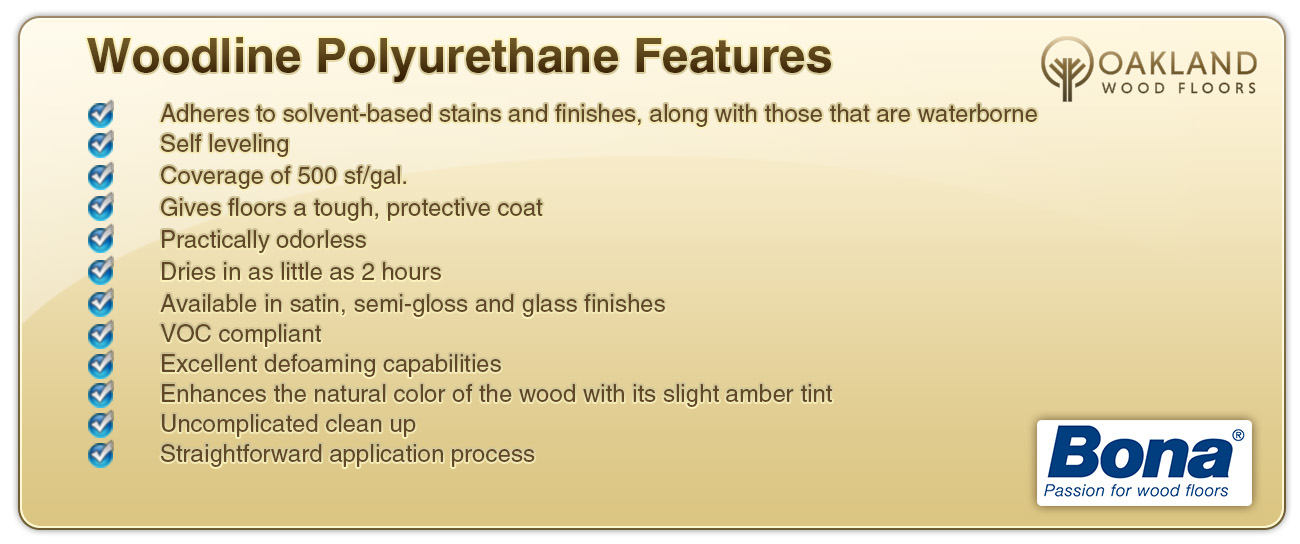 Woodline Polyurethane Recommended Uses:
Bonaseal can be used on both commercial and residential floors. It is not recommended for use on floors with white or pastel stains.


Physical characteristics of Woodline Polyurethane:
Ingredients - Satin and Semi-Gloss: Oil-modified polyurethane resin, mineral spirits (solvent), driers,
silica.
Gloss: Oil-modified polyurethane resin, mineral spirits (solvent), alkyd resin, driers.
Color - Gold amber
pH Level – N/A
Solids – 43.5%
Viscosity (#4 Ford cup @ 25° C) - Gloss: approx. 20 seconds; Satin and Semi-Gloss: approx. 40 seconds
Density - Gloss: 7.3 lbs./gallon (.87 S.G); Satin and Semi-Gloss: 7.8 lbs./gallon (.94 S.G)
VOC Compliant - Does not exceed 510 grams per liter (4.3 pounds per gallon VOC)
Gloss Level - Gloss: (60°) >90; Semi-Gloss: 60; Satin: 30
Odor - Mineral spirits
Flashpoint - Satin and Semi-Gloss: 103° F; Gloss: 110° F
Stability – 1-year shelf life in unopened container
Packaging – 5 gallon pail, 1 gallon can or 1 quart can


Application characteristics of Woodline Polyurethane:
Clarity - Gloss: Clear; Satin and Semi-Gloss: Slightly opaque
Leveling - Good
Drying Time - 2 to 3 hours
Cure after 24 hours – 40%
Maximum Cure – 100% after two weeks
Coverage – 500 square feet per gallon
Defoaming - Excellent
Application Procedure:
The application process varies when using Bona Woodline Polyurethane depending on the age of the floor and what it has been previously treated with. Pay close attention to the directions on the back of the product to ensure quality results.

Before applying Woodline Polyurethane, remove the lid off the can and stir thoroughly with proper mixing tool. After preparing the floor, apply Woodline with proper application tool going with the grain of the wood. Feather out each stroke to minimize product buildup. Allow coat to dry completely before applying the second coat.


Recommended Application Tools: Lambs wool applicator, brush or snowplow tool
If you have further questions about this application process, call Bona at 800-872-5155.

Sometimes making the decision to install a new hardwood floor, or whether or not to do proper upkeep on it, is a difficult one. Let our licensed company make it easy for you. Using our hardwood calculator, you will be able to see just how little it can cost you to install a little bit of luxury into your home. Oakland Wood Floors' dependable, experienced workers have been satisfying customers hardwood floor needs for a long time — just read our customer testimonials! As a member of the NWFA, we are eager to have you on board as one of our valuable customers so that we offer you services involving a dust-free sanding and finishing process, along with the use of products like Bona oil-modified finishes. Call us for more information at 866-670-1239.