Bona Naturale Product Description:
Bona Naturale™ is the latest in wood floor protection product technology. Bona Naturale® preserves the natural appearance of hardwood flooring. It offers wood floor owners the closest resemblance possible to an untreated appearance, yet still provides protection and durability. High-traffic areas in the home or commercial locations can benefit from the application of this product to wood floors that see a lot of wear and tear. Bona Naturale® makes wood look more natural and makes scratch marks less noticeable. Only experienced, trained professionals should use Bona Naturale™.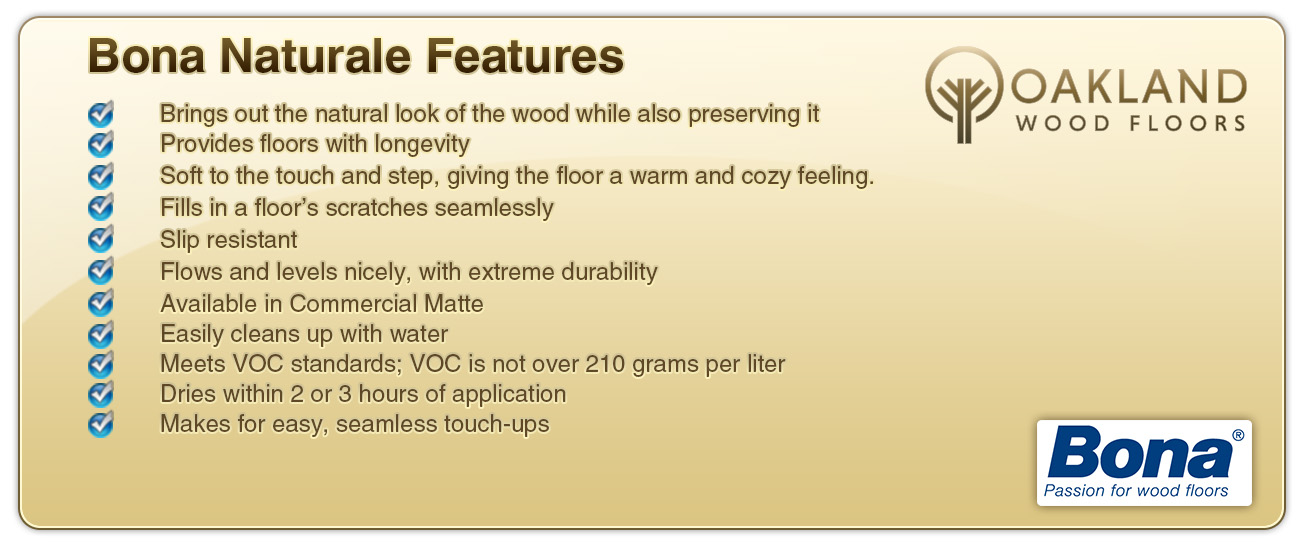 Recommended Uses
Use Bona Naturale™ on wood floors in areas in the home that get a lot of traffic like kitchens, entryways, dining rooms, living rooms, and areas commonly used by pets and/or children.
Bona Naturale™ is also suited for commercial and business use in places like stores, restaurants and office buildings.
Institutions such as hospitals, nursing homes and schools can also benefit from using Bona Naturale™.
Specifications/Directions for Use
Ingredients: Bona Naturale™ contains water, polymeric resin, dipropylene glycol monomethyl ether, silica derivate and amorphous silica.
Color - Milky white when wet
Gloss Level (60°) – 4 to 6 for Commercial Matte
pH level - 8.1 (85°) - 4-7 for Commercial Matte
Viscosity - (Brookfield @ 25° C) 20-30 cP Flash Point - N/A
Viscosity with Hardener - (Brookfield @ 25º C) 55-65 cP
Solids - 33% (with hardener)
Odor - Non-offending with a slight scent of solvent
Stability – 1-year shelf life in unopened container
Density - 8.66 lbs./gallon (1.04 S.G.)

VOC Compliant- 1.8 lbs. per gallon VOC
Packaging - 1-gallon plastic bottle
Application Characteristics:
Clarity - Clear when dry
Coverage – 350 to 400 square feet per gallon
Leveling - Excellent
Percent Cured After 24 Hours - 75%, 72 hours - 90%
Defoaming - Excellent
Maximum Cure - 100% after 1 week
Drying Time – 2 to 3 hours
Application Tools
Use a Bona® Swedish Roller Pot Life.
Special Directions for Application: It is important to remember that the finish/hardener must be used within four hours after mixing. After this time period, the product loses its active properties. It is only possible to mix the finish and hardener together once.
We are the perfect flooring company for customers who want new hardwood floors, or just want their existing hardwood floors flawlessly maintained. We offer highly competitive rates and quality service to the whole state of California. To get the lowest estimate you'll get anywhere, use our hardwood floors calculator. And, if the price doesn't convince you, consider reading our customer testimonials. We complete sanding, installing and refinishing in a timely manner and matching high standards.

Call 866-670-1239 today to get your free estimate and start the ball rolling to get your own hardwood floor.