Bona DTS Deep Tone Sealer Product Description:
When putting in a hardwood floor, it helps to have the right tools. Bona DTS Deep Tone Sealer offers to seal the wood of your floor, giving a natural yet vibrant look, along with the durability to stand the test of heavy traffic. Finishing with this waterborne sanding sealer will also ensure that the wood surface isn't penetrated and that you get a finished product you can be proud of.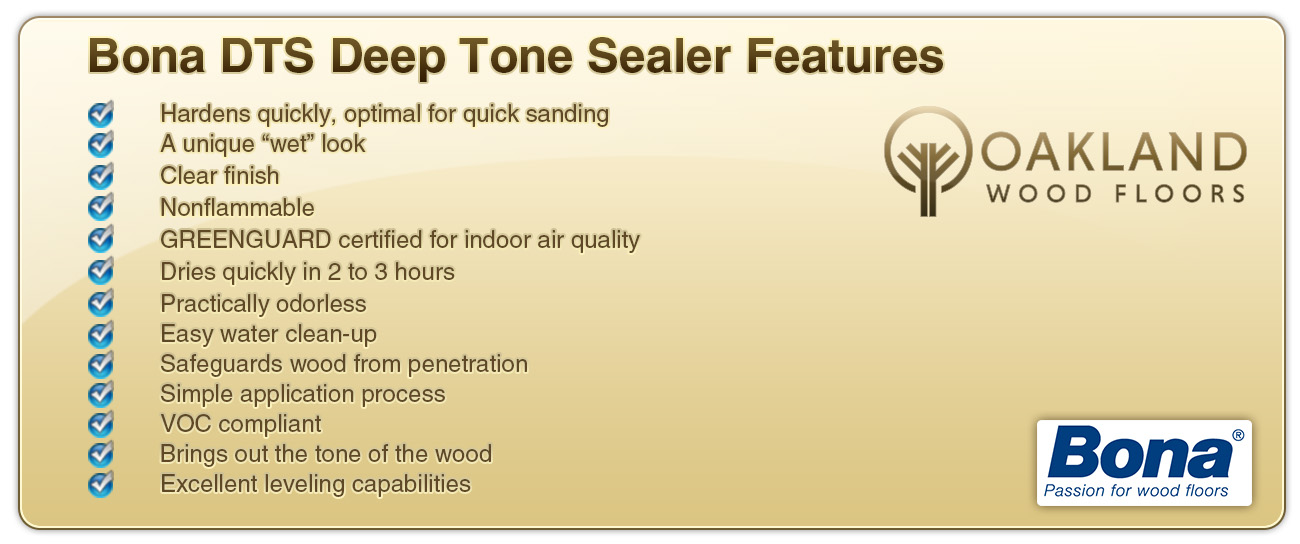 Bona DTS Deep Tone Sealer Recommended Uses:
One to two coats of Bona DTS is recommended for floors under traffic in residential and commercial areas.


Physical characteristics of Bona DTS Deep Tone Sealer:
Ingredients- Water, polymeric resin, silica derivate, diethylene glycol monoethyl ether, and propylene glycol
Color- Milky white when wet
pH level- 7.5 to 7.9
Solids – 31 to 32%
Viscosity – (Brookfield, 25C˚) 21 to 24 cP
Density - 8.66lbs/gallon (1.04 S.G.)
VOC Compliant - Product has maximum VOC content of 250 grams per liter (2.1 pounds per gallon VOC).
Gloss Level - N/A
Odor - Non-offending
Flashpoint - ->200˚F
Packaging – 1-gallon plastic bottle


Application characteristics of Bona DTS Deep Tone Sealer:
Clarity - Dries clear
Leveling - Excellent
Drying Time - 2 to 3 hours
Maximum Cure – 100% after one week
Coverage – 450 to 600 square feet per gallon
Defoaming – Excellent
Percent Cured After 24 Hours: N/A
Application Procedure of Bona DTS Deep Tone Sealer:
Before applying Bona DTS Deep Tone Sealer, shake can well. Apply one to two coats of Bona DTS before applying two coats of Bona waterborne floor finish. To ensure application goes smoothly and produces the desired results, be knowledgeable about the instructions included on the container. It's best to test a board before use to make sure it produces a satisfactory end result with the floor.

Recommended Application Tools: Bona Floor Coater, Bona Roller and Bona Cut-In Pad

If you have further questions about the Bona DTS application process, call Bona at 800-872-5155.

Installation and maintenance of hardwood floors does not have to be difficult. If you live in the state of California and are looking to acquire these services at a price friendly to your budget, give Oakland Wood Floors a call. You can also use our hardwood calculator to get a quote on how much it will cost to put your work into our hands. As a licensed member of the NWFA, we will take care of it all for you using a dust-free sanding and finishing process, along with proven products, like Bona DTS. Don't take our word for it. Peruse our numerous customer testimonials, and you will see that hiring us for all your hardwood floor needs is a step in the right direction. Call us for more information at 866-670-1239.